If you have any questions, we implore you to ask the professor in charge here in the plasma research lab. Please send your questions via email to Dr. Staack and he will be much obliged to help you.
Also, if you have any questions about the website itself, being its layout, or otherwise, please feel free to email your questions to our webmaster. Wayne Maxwell: mrmaximus07@neo.tamu.edu
To contact Dr. David Staack:
Phone: 979-845-4063
Fax: 979-845-3081
E-mail: dstaack@tamu.edu
Physical Addres:
Texas A&M - Mechanical Engineering Department
ENPH Rm. 413
3123 TAMU
College Station, TX 77845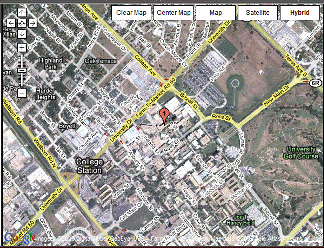 Directions:
Located near Spence Street on the Texas A&M campus, the Plasma Engineering and Diagnostics Lab, headed by Dr. David Staack, is committed to providing interested viewers of this website with detailed information.
For a larger version of the map, or directions to the laboratory, click on the map above and type in ENPH in the search area. Also, you can click here.